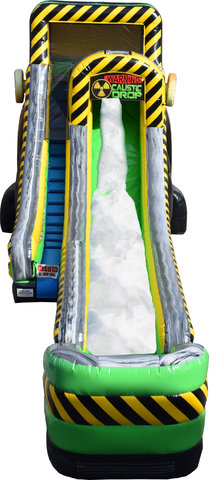 Caustic Drop Slide - Wet, Dry Or Foam
20ft foam, water or dry slide. This new, innovative design features a built-in platform that houses the foam machine which allows the foam to dispense downward, directly onto the top portion of the slide surface.
The foam, in combination with the water, provides the riders with the ultimate slide experience as they plummet swiftly and safely to the end.
20' H x 16' W x 50'L
Please Note: Foam machine & foam packs are not included. It is a separate rental - Select foam machine & foam packs if using this as a foam slide - Each foam pack is good for up to an hour & a half.
THIS CAN ONLY BE SET UP ON GRASS FOR SAFETY REASONS